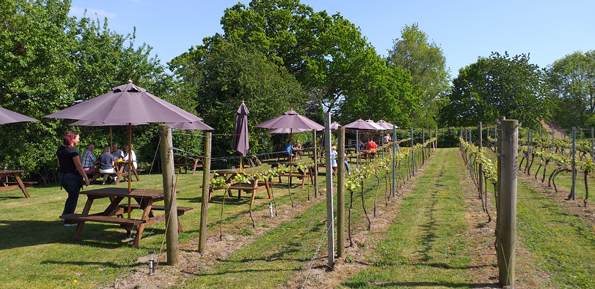 It was the first outing by SFA for a long time – a tour and tastings at the award-wining Norfolk vineyard of Winbirri.
A hot and sunny May afternoon surrounded by vines, it could have been the sultry plains of Provence in France, probably more famous for its wine than this little corner of the Norfolk Broads, just a few miles south-east of Norwich.
Yet this vineyard in Surlingham – only operational since 2007 – is truly world-beating, having already won many national and international awards, including becoming the first English vineyard to win the coveted Platinum Best in Show at the 2017 Decanter World Wine Awards.
The medal was for best value white wine made from a single grape variety – a grape relatively un-touched by most of the wine world but which has found a home in the fledgling English wine industry.
That variety is Bacchus, a combination of a Riesling-Silvaner cross with Müller-Thurgau, and Norfolk's answer to Sauvignon Blanc.
Winbirri's owner, grower and winemaker Lee Dyer, was rightly delighted with the awards as he led the tour of his "small" vineyard – just 52,000 vines across one square kilometre, producing some 200,000 bottles of wine.
Compared to the more well-known and established growers around the world, this is small scale stuff, but it is just this that makes it so special.
Not for Winbirri the industrial processes, mechanisation or additives used by the mass producers. Here, everything is done by hand and the grapes allowed to do what nature intended in its own time.
This gives each of the five wines their unique flavour and why they are chosen by many Michelin-starred restaurants in the UK – and why Slow Food Aylsham is a big fan.
But that is also its drawback. Because production takes so much longer, Lee's team are often unable to meet demand. And while the wines are available in Waitrose and some wine retailers, it is difficult to keep up a constant supply. So best to buy directly from the Winbirri shop.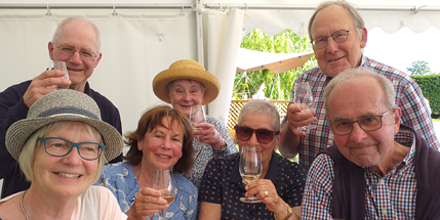 At the end of the tour, the tasting. And, while the range is limited, each wine is distinctive and fulfills all that is required – from a quaffing wine, through to the celebratory "Champagne-style" Vintage Reserve, better referred to as English sparkling.
We were invited to first check the wine's aroma, or "nose" –  floral, citrus, fruity, oaky, earthy – before taking a sip. Because of the Winbirri wine-making process and storage conditions, each variety has a unique quality and one which is unlikely to be replicated exactly in subsequent years.
From the white wines of the Bacchus and Solaris grapes to the Pinot Noir Rosé and Signature red, Winbirri, from the Anglo Saxon "wine berry" or grape, is laying down a marker as a challenger to the world's
top wine producers.
A toast to Norfolk wines.(ABOVE: Back row, left to right)
Richard and Mo Anderson-Dungar, David Harper.
(Front) Lesley Prekopp, Maureen Harper,Claudia and Malcolm Pim.

Patrick Prekopp,
Chair Slow Food Aylsham
15-05-2022