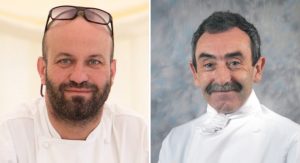 Two of Norfolk's best-known chefs will launch the traditional thee-day Aylsham Food Festival in October with a packed programme of favourites – old and new.
Charlie Hodson, of Norfolk Food Heroes and co-organiser of the Big Sausage Bash in Aylsham, and Steve Thorpe, former head of the catering school at City College, Norwich, and now ambassador for the hospitality, tourism and leisure industry – will be guest speakers at the Festival Dinner on Friday 4 Oct at Aylsham High School.
They will be joined by popular local chef Derrol Waller who will demonstrate his cookery skills and entertain visitors at the Festival Farmers' Market on the Saturday (5 Oct).
The three-day festival, organised by Slow Food Aylsham and Cittaslow, will be held from Friday 4 to Sunday 6 October featuring the weekly Friday morning Country Market in the town hall, a wine and cheese tasting event at the Heritage Centre, entertainment, stalls and street food at Saturday's farmers' market and the famous Big Slow Brunch on Sunday morning.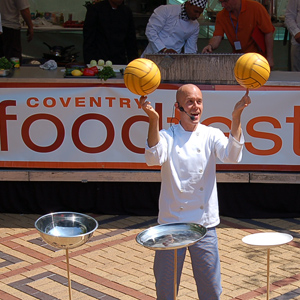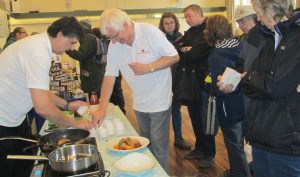 But before the Festival proper, as appetiser or "apple-tiser" event, local cider maker David Warren and his daughter will present Cider with Rosie – an evening demonstrating the art of cider-making. Bring your own apples for crushing and sample fresh apple juice, or home-made scrumpy, or buy from the barrel. In the Town Hall on Saturday 28 September from 6pm.
The following Friday, 4 October, Steve Thorpe and Charlie Hodson, both long-time friends of the Festival, will be re-united at Aylsham High School, where they delighted the audience back in 2017 with a wealth of anecdotes.
The dinner – welcome drinks at 6.30pm – will be prepared, cooked and served by the school's Hospitality and Catering students.
Tickets for the dinner are just £12.50 per person and available at Postles in the Market Place or phone 07519 361812.
'Juggling Chef' Ian Marchant and his Culinary Capers will entertain visitors to Saturday's Farmers' Market. Clad in chef's whites, Ian performs feats with fruit, vegetables, and crockery, and will be in and out the Town Hall where Slow Food will host a variety of attractions and stalls selling an array of home produce including old-fashioned farmhouse cheese, a chocolatier, and beekeepers with a range of nutritional and health products.
Finally, the end of the Food Festival is marked by the ever-popular Big Slow Brunch on Sunday (10.30-1pm) when members of Slow Food Aylsham and friends will cook up a Full English breakfast or Continental alternative for around 100 people.
This family-oriented event usually sells out fast, so don't delay in getting your tickets, at £7 per person, from Postles or by phoning 07519 361812.