Now in its 14th year, Slow Food Aylsham is setting out its stall for its traditional three-day celebration of all that is good about local produce and food traders.The annual Food Festival is held on the first weekend of October, when Slow Food Aylsham stages events that promote local food, while also providing entertainment for the community.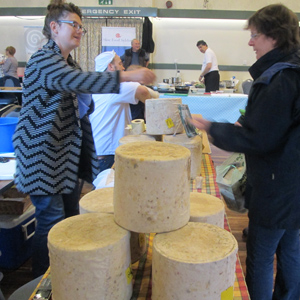 This year, they will be working alongside sister organisation, Cittaslow Aylsham, to produce a variety of events over the festival's three days, 4th to 6th October.
On the menu this year, as an appetiser, father and daughter David and Rosie Warren, from Aylsham, will kick off the festival on Saturday 28 September by demonstrating the art of cider-making – accompanied by Norfolk folk musician and cartoonist, Tony Hall on melodeon.
Bring your own apples for crushing and sample fresh apple juice, or David's home-made scrumpy, or buy from the barrel in the Town Hall from 6pm.
For festival starters, there is a special Country Market in the Town Hall on Friday morning, followed in the evening with the Festival Dinner featuring the hospitality and catering skills of Aylsham High School students, and a special guest speaker to entertain guests with an after-dinner talk.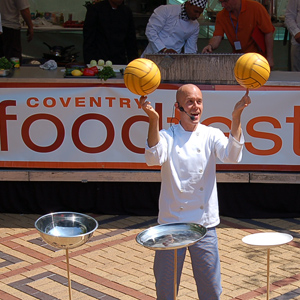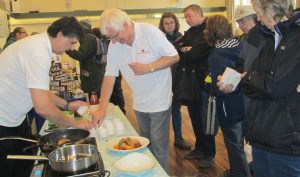 The main course is on Saturday – the showcase for local food and drink – when the monthly Farmers' Market will be boosted by a number of extra stalls in the Town Hall, plus cooking demonstrations by Aylsham-based chef, Derrol Waller.
Displaying his amazing juggling skills will be Ian Marchant, or as he likes to be called, 'Culinary Capers'. Ian will be 'on stage' throughout the morning, providing entertainment for young and old. Also on Saturday, Aylsham Heritage Centre will host a wine tasting evening.
And for afters, the Big Slow Brunch on Sunday (6 October) will again be held in the Town Hall where a 'Full English' breakfast or a Continental alternative will be available from 10.30am to 1pm, freshly cooked and served by members of Slow Food and friends. Tickets from Postles in Aylsham.
Slow Food Aylsham campaigns to preserve and promote the rich food traditions of Norfolk.