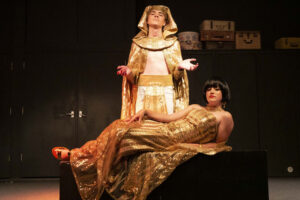 An amazing technicolour curtain-raiser will launch this year's Aylsham Food Festival.
In an exclusive preview of their Christmas Show, students from Aylsham High School will entertain up to 100 guests at the 15th Festival Dinner with songs from the hit musical, Joseph – the  first time the school has been able to  give a sneak peek of their annual stage show.
And it's a win double for the school as the four-course meal itself will be prepared, cooked and served by the catering students.
The dinner, organised by Slow Food Aylsham, usually features a celebrity guest speaker from the food sector, but the "pingdemic" and uncertainty at a time of big demand in the hospitality sector has changed the usual arrangement.
Tanya Wiseman, show producer and teacher at the High School, said: "We are all absolutely thrilled to be able to showcase parts of the show, which has proved a huge challenge to us all during the pandemic.
"The students will be performing in their costumes and makeup for the first time, so if you are lucky enough to get a ticket for this evening you are in for a treat!
"We feel honoured to be able to work alongside are colleagues from the Food and Nutrition Department , to produce a wonderful gala evening supporting the Slow Food Festival.
"We would like to thank the Slow Food of Aylsham for this opportunity, and we hope you will all come and see the show in December."
The three-day festival, organised by Slow Food Aylsham and Cittaslow, celebrates all that is good about local produce and food traders, and features the Country Market , an extended Farmers' Market, Wine Tasting evening and the famous Big Slow Brunch in the Town Hall.
Food Festival Diary

Friday 1 October: Country Market in Aylsham Market Place, 8.30am to midday.
Gala Dinner, Aylsham HIgh School, 6 for 6.30pm.
Saturday 2 October: Farmers' Market in the square and Town Hall, 8.30am to 1pm.
Wine Tasting, Heritage Centre, 7pm.
Sunday 3 October: The Big Brunch, Town Hall, 10.30am to 1pm.
Tickets for the dinner are £15pp; Sunday Brunch £8 (£4 for children under 12) available from  Postles, in  Aylsham, phone 0751 936 1812 or email info@slowfoodaylsham.org.uk
Festival updates on Facebook AylshamFoodFestival or Twitter @slowfoodaylsham.
Opening night is Monday 20 to Friday 24 December tickets are available via ticketsource.co.uk or from the school, Wednesday lunchtimes 12.30pm to 1.15pm when the school returns after the summer holidays.