A recipe from my Slovak daughter-in-law – just the thing for last-minute Christmas presents. Easy for children to make too. Makes 24.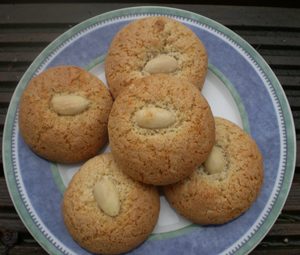 Ingredients
300g plain flour
140g caster sugar
40g chopped almonds or walnuts, fairly finely chopped but not powdered
1 teaspoon bicarbonate of soda
75g runny honey
2 eggs
Optional
Teaspoon of Amaretto liqueur, if using almonds
Chunks of nut to decorate, if liked
Grease and line a baking tray with greaseproof paper or baking parchment.
Mix all the dry ingredients together – flour, sugar, nuts and bicarbonate of soda. Beat in the honey and eggs (plus the liqueur, if using). This will make quite a stiff but sticky dough.
Shape into walnut-sized balls and space generously on the baking tray – they will spread quite a lot while cooking. If liked, press a whole almond or walnut chunk into each biscuit. Bake them in two batches of 12 biscuits. Bake in preheated oven at 180°C, gas mark 4, for about 9 mins until golden brown. Lift them gently out of the tray onto a cooling rack as quickly as possible, while still warm – they will be difficult to handle once cold.
© Jane Chittenden