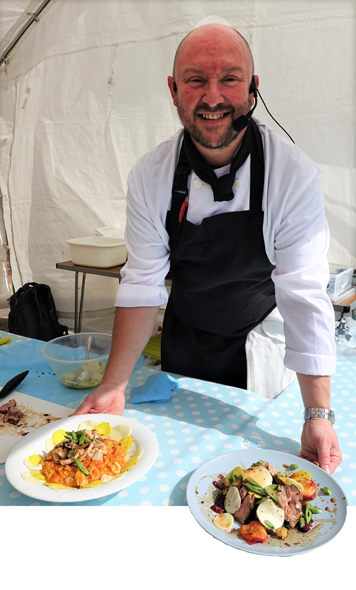 Visitors to the Slow Food marquee at the farmers' market in Aylsham yesterday (Sat 7 Sept) were treated to a master class in low-budget cookery by chef Steve Norgate.
As Head Chef at The Beechwood Hotel in North Walsham, Steve is more used to producing posher grub but he created two fabulous dishes from a paltry £10 budget with fillet of lamb and squid or should that be Calamares a la Aylsham?
Aylsham Food Festival
The next farmers' market will be Saturday 5 October – right in the middle of the three-day Aylsham Food Festival – and will feature another local chef, Derrol Waller who will also demonstrate how to cook on a budget.
And two of Norfolk's best-known chefs will feature at the Festival Supper on Friday (4 October) at Aylsham HIgh School – Charlie Hodson, of Norfolk Food Heroes and co-organiser of the Big Sausage Bash in Aylsham, and Steve Thorpe, former head of the catering school at City College, Norwich, and now ambassador for the hospitality, tourism and leisure industry – will be guest speakers at the Festival Dinner.
Tickets for the dinner are just £12.50 per person.
And there's more food on offer at the Big Sunday Brunch (6 Oct) when members of Slow Food Aylsham and friends will cook up a Full English breakfast or Continental alternative for around 100 people. This family-oriented event usually sells out fast, so don't delay in getting your tickets, at £7 per person.
All tickets available from Postles in the Market Place or phone 07519 361812.