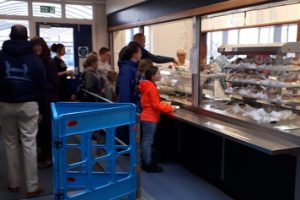 The heat was on for the Slow Food Café when hundreds of visitors to the annual Family Learning Day at Aylsham High School stopped off at the canteen to enjoy some traditional home cooking.
While it was wet and windy outside, indoors, the hot favourites were the sausage rolls and bacon sandwiches followed by a selection of home-made scones, cakes, and filled rolls for a light lunch to suit all tastes, including specialist dietary requirements. And, where possible, all provided by local traders and producers.
It was a day for families who enjoyed a wide range of free activities organised by the Aylsham Cluster Trust (8 June 2019) including puppet making and the ever-popular Hogwarts Experience as well as opportunities to enjoy a variety of science activities and craft stalls.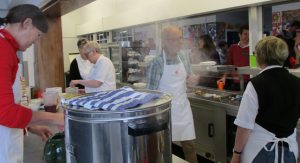 Sponsored by Aylsham Rotary, Family Learning Day is aimed at providing opportunities for working or playing together and for family members to develop a greater awareness of the school environment and what their child is learning.
And Slow Food Aylsham was there to link the pleasures of food with its commitment to the community and the environment – connecting producers to consumers.