The 17th Aylsham Food Festival is over for another year marking the beginning of the season of mists and mellow fruitfulness.
As festivals go, the three-day event in Aylsham is quite small in comparison to those in Norwich and places like Holkham Hall, but it is a family event with that close community participation that makes it so appealing.
The Festival in early October is a way of encouraging people to buy local, seasonal food and cook from fresh, as well as a celebration of local growers and food traders.
This was ably demonstrated by the enthusiastic Aylsham High School students who prepared, cooked, and served the Friday Festival Dinner showing once again that the future of cookery is in good hands.
The evening included a medley of songs and music from next year's musical, Oliver! Considering the cast had only a few days rehearsal time, the show promises to be a huge hit.
The Festival Dinner was fully booked – as was the wine tasting event at the Heritage Centre the next day.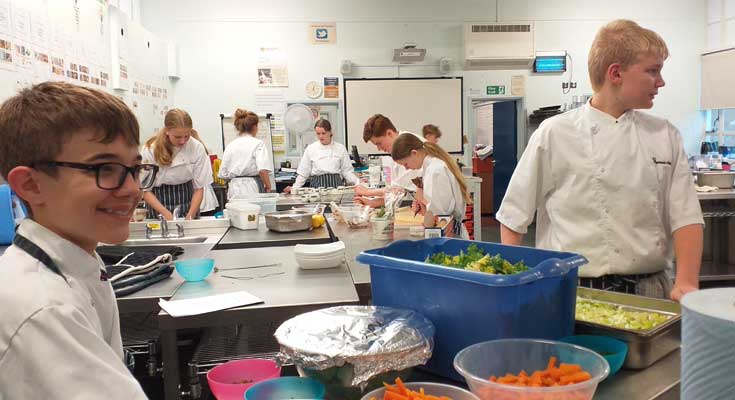 And the turn-out at the Saturday Food and Craft Market was exceptionally busy as shoppers and visitors browsed the stalls in the sunshine and were entertained by the Sky High Juggling Chefs – and many stallholders also sold out.
That community participation was demonstrated at the Sunday Brunch in the Town Hall when guests, who enjoyed a Full English and Continental buffet, helped our short-handed members in clearing the tables.
Slow Food Aylsham is a not-for-profit group, who, with its sister organisation Cittaslow Aylsham, works with local producers, chefs and businesses to promote the region's diverse and flourishing food and drink scene.
This Festival continues to thrive and we are indebted to them all and our guests, and the people and traders of Aylsham, for their continuing support and encouragement.
A massive thank you to Aylsham.
Festival supporters


The Papillion Project working with Aylsham High School
Fresh Approach and Harvest, Aylsham
Norfolk Deer Management
The Cheese Truckle, Taverham
Flour & Bean
G F White and Coxford butchers
Norfolk Coffee, Salle
The Banningham Crown
J B Postles
Bure Valley Railway Woodgate Nursery