Chefs – big and small – took centre stage at the Aylsham Food Festival. As guest speakers, and in the kitchen, demonstrating cookery skills or juggling in the square, they were everywhere.
They were taking part in the 14th annual three-day event in the Market Place and Town Hall at Aylsham, held to celebrate all that is good about local food supplied by local producers.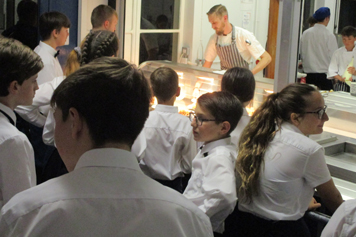 Organised by Slow Food Aylsham and Cittaslow Aylsham, the festival attracted a wide range of interest from near and far, many booking tickets for the Festival Dinner at Aylsham High School and a fry-up at the Big Sunday Brunch in the Town Hall while shoppers at the Saturday Farmers' Market were delighted with the Culinary Capers of the "juggling chef".
The traditional event is always held on the first weekend of October coinciding with the Farmers' Market, the end of the harvest and apple picking.
Local cider maker David Warren and his daughter Rosie kicked off the festival the week before with a demonstration of apple crushing and cider tasting.
But the main event was "An Evening with Charlie Hodson and Steve Thorpe" at the festival supper in the High School. Both are first class Norfolk chefs and champions of keeping it local and old friends of Slow Food.
After the meal of venison chilli with rice or flatbread, salsa, guacamole, and apple three-ways for dessert, all prepared, cooked and served by the High School catering students, the guest speakers spoke of their confidence in the future of Norfolk's hospitality business despite the changing nature of the food industry, the collapse of restaurants and the impact of what we eat on the environment.
Charlie Hodson told the 80 diners that the quality of cooking and enthusiasm shown by the students was inspirational and that "we are in safe hands" with the next generation of foodies.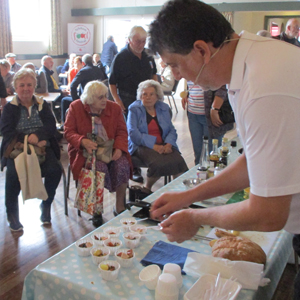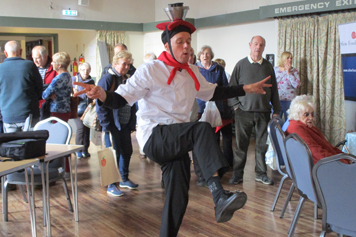 The extended Farmers' Market was particularly successful and many stalls sold out as shoppers were treated to some street entertainment by "juggling chef" Ian Marchant.
In the Town Hall, local chef Derrol Waller gave a demonstration of what you can do with just £10 and ingredients bought from the market. His warm Norfolk Dapple, celery and garlic mustard salad – with croutons – went down well with his audience.
As did the fried sausage and pork, followed by an apple and pear dessert.
And, despite the torrential rain on the Sunday, about 70 residents, including a significant contingent from St Michael's Church, sat down for the Big Brunch prepared and served by Slow Food members and friends.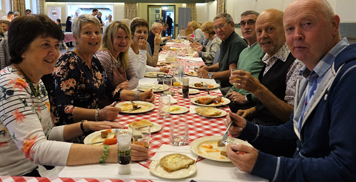 SFA chair Patrick Prekopp said: "This year's festival was probably one of our best in recent years and proof that
the community spirit and food awareness in the town is alive and well."
More photos on Food Festival Gallery 2019