Slow Food Aylsham has teamed up with Cromer Foodbank to produce a new version of the Slow Food Recipe Book.
A group of Slow Food members visited the Foodbank warehouse at the Methodist Church in Cromer to learn about the operation and how a recipe book would work alongside the food parcels.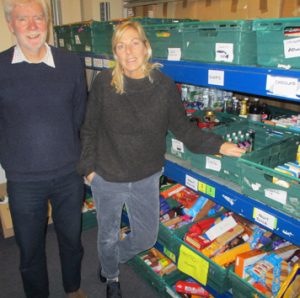 "We are delighted that Slow Food is joining us," said Tim Morton, Project Manager, Cromer and District Foodbank. "It's not just about food parcels. We also provide practical help and food education and the recipe book will help us do that."
First compiled several years ago but now out of print, the book, will contain, simple, quick and nutritious recipes based on ingredients found in a typical Food Bank parcel. All recipes will be tried and tested by at least three people including a professional cook or chef.
The visit in November coincided with one of the busiest times for the Foodbank. As shelves in shops were filling fast with Christmas stock, those at the Food Bank were also packed.
"This time of year is manic for us as we get seasonal extras on top of the usual donations," said Tim. "These extras will go alongside the normal food parcel and we hope will add a little festive cheer."
Extras include items like lentils, olives or little luxuries as well as pet food and toiletries. Sugar is considered an "extra".
"Many items already include a sugar content and part of our approach to healthy eating is to restrict this sugar content but it is offered as an extra," added Tim.
The Food bank delivers across 200 square miles of north Norfolk with centres in most of the major towns. There is one at St Michael's Church, in Aylsham.
Tim and Olivia Reid, a food expert and trustee of the food bank, oversee the operation which last year helped more than 3,500. This year, that figure rose by 15 per cent by August.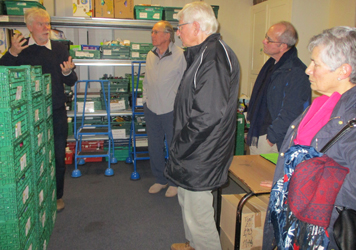 Olivia also cooks at the Community Cafe near the church. "We want to develop and expand knowledge about food, whether it's in cookery skills or food education," said Olivia. "Partnering with Slow Food would open up possibilities for cookery classes. This would provide opportunities for our customers to grow in cooking confidence and could also be a social event for those who are lonely."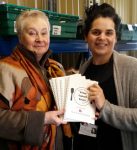 Back in February 2016, Slow Food Aylsham presented Cromer and District foodbank with 100 copies of wipe clean, "open flat", kitchen-friendly recipe booklets.
Cromer Project Manager at that time was Ella King who received the booklets from the Slow Food Aylsham chair Mo Anderson-Dungar.
---
Food Bank distribution centres in Aylsham are:
St Michael's Parish Church, Mondays, 9.30-11.00am
The Pavillion, Aylsham Recreation Ground, Tuesdays, 1.30-3.00pm
You can contact Cromer Foodbank by telephone Monday to Friday 9am until 3pm. Office is open Monday to Thursday 9am until 12 noon.
Cromer Methodist Church Hall, Corner of West St and Hall Road, Cromer, NR27 9DT
Phone: 07826 376343
Website: http://cromerdistrict.foodbank.org.uk/
Email: info@cromerdistrict.foodbank.org.uk