We were lucky enough to be able to get our hands on some Wagyu beef, locally from the Worstead Estate for this recipe. The marbelling is amazing and the meat so succulent, it makes this pie sublime! The Blackberry Stout pairs beautifully and adds depth of flavour and a slight bramble edge which freshens the dish.
You will need some time for this recipe as the secret is the slow cooking of the beef to make it fall apart and melt in the mouth. This pie also has a complete pastry shell, we know some people are scared to do this and opt for the pastry topping option as the bottom can go soggy, but don't fear, when you get it right, it's so worth the work. © Freya Deal
SERVINGS 4
PREP TIME 30 minutes
COOK TIME 4 hours
Ingredients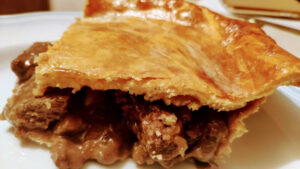 400g Beef
2 medium Onions
200g Mushrooms
200ml Beef stock
300ml Wild Card Stout
2 tbsp Flour
1 tsp mixed herbs
Knob of butter
Bay leaves
Sprig of Thyme
3 cloves garlic
Pastry
300g Flour
150g Butter
Ice cold water
Method

FOR THE FILLING
Chop beef into medium size chunks and slice the onions
Pre-Heat over to 140c
Brown the beef in batches, in a heavy casserole dish, to ensure even browning across the batch
Remove the meat from the dish and soften the onion on a low heat for around 5 mins until almost transparent but not browned. Add the garlic and soften for another 2 mins.
Add a tablespoon of plain flour, stir through the onions and garlic for a few minutes. Add the meat back into the dish with the teaspoon of mixed herbs. Stir and add the beer and stock.
Stir, ensuring the glaze on the bottom of the dish is lifted. Bring to a simmer, add the fresh herbs and put a lid on. Place in the over for 2 hours.
Just before the end of the cooking period, cut the mushrooms, fry in the butter, remove the casserole dish, add the mushrooms and allow to cool (This can all be done the day before or well in advance. the flavours will build)
FOR THE PASTRY
Rub the flour into the butter until it resembles fine breadcrumbs
Slowly add cold water and mix until a dough is formed.
Place in the fridge for 30 mins or an hour if you can
CONSTRUCTING THE PIE
When ready, grease a pie dish, cut off a third of the pastry to keep for the topping and roll the rest to line the pie dish.
Place some heat proof beads on top of your pastry lined dish and blind bake for 20 minutes at 180c.
Remove from the oven and allow to cool
Add the filling and roll out the top pastry.  Brush some egg wash on the rim of the bottom pastry and place the top on the pie. Brush with egg wash.
Place in the oven and cook for a further 40 minutes.
With thanks to Wild Craft Brewing