Melt in the mouth beef cheeks in a rich, delicious sauce made from Wild One Imperial Stout.
You might need to order the cheeks from your local butcher as some don't stock them. Its well worth using them though as they literally fall apart and melt in the mouth. They are also very cheap!! You could use braising steak if you can't find cheeks but they just don't come close! © Mike Deal
SERVINGS 4
PREP TIME 30 minutes
COOK TIME 4 hours
Ingredients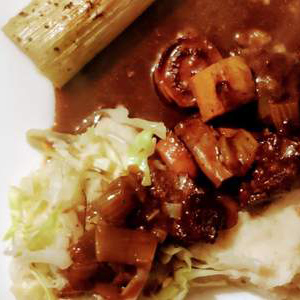 4 ox cheeks
2 tbsp of flour
2 celery sticks cut into bite size chunks
1 large onion diced
1 leek cut into bite size chunks
1/2 swede in 1″ chunks
1 parsnip in 1″ chunks
1 carrot in 1″ chunks
200g Mushrooms
350ml Wild One Imperial Stout
400ml beef stock
1tbsp tomato puree
1 tbsp brown sugar
Sprig of thyme
Bay leaves
Salt and pepper
Celeriac mash
1/2 celeriac
3 potatoes
butter
Salt and pepper
Method

Braised ox cheeks
Pre heat oven to 140c
Brown the cheeks in a large dish (needs to have a lid) that you will use for the whole of the cook. Do this in batches of 4 or 5 at a time to ensure you seal the meat evenly and brown perfectly. Put to one side in a large bowl and sprinkle 2 tbsp of flour over. Mix in well to ensure the meat is fully covered
In the same dish, add a little more oil and fry the onion until it starts to brown
Add the Celery and leek chunks, add your herbs and fry for 5 minutes.
Stir in the tomato puree and sugar.
Add the Wild One Imperial Stout and pour the rest into a glass for a treat! Add the beef stock and allow to cook down by about 25 per cent.
Add the ox cheeks, give a little stir, put the lid on and place in the oven for 3 – 4 hours.
Prepare your root vegetables and put to one side until there is an hour left on the cook time. At this point put into the oven at 180c (Gas 6) and roast for 40 minutes.
Add to the pot and stir in. Add the mushrooms and cook for a further 20 mins. By this point, you should be able to cut the beef cheeks with a spoon. Remove from the oven and allow to rest for up to 30 mins, the flavours will improve in this time. Serve with veg of your choice, we had a leek and some cabbage.
Celeriac mash
Dice the Celeriac and add to a pan of boiling water
Dice the potato and add to the pan
Drain, add a good knob of butter and mash. Season to taste.
With thanks to Wild Craft Brewing