A recipe book aimed at the growing numbers of Food Bank users has been published by the Slow Food group in Aylsham.
All the recipes are based on the contents of a typical food bank parcel – mainly non-perishable canned and dried foods – and are simple, easy to follow, to encourage those who receive food parcels to get the best out of their rations.
Called Canny Cooking, the 24-page, fully illustrated handbook, compiled by SFA members was presented to Cromer Food Bank in September to give away to customers who are reluctant cooks but keen to try.
Each recipe was tried and tested by at least three Slow Food members.
Patrick Prekopp, Chair Slow Food Aylsham, said: "Sadly, we had to cancel our October Food Festival because of Coronavirus so we have tried to fill that gap with something to benefit the community.
"As winter approaches and the new Covid restrictions threaten to create significant economic hardship especially to those trapped in poverty, food banks are forecast to give out a staggering six emergency food parcels every minute.
"We hope our contribution will go some way to helping all those on tight budgets – students, single-parent families, unemployed, etc – manage their budgets and encourage them to make best use of their rations."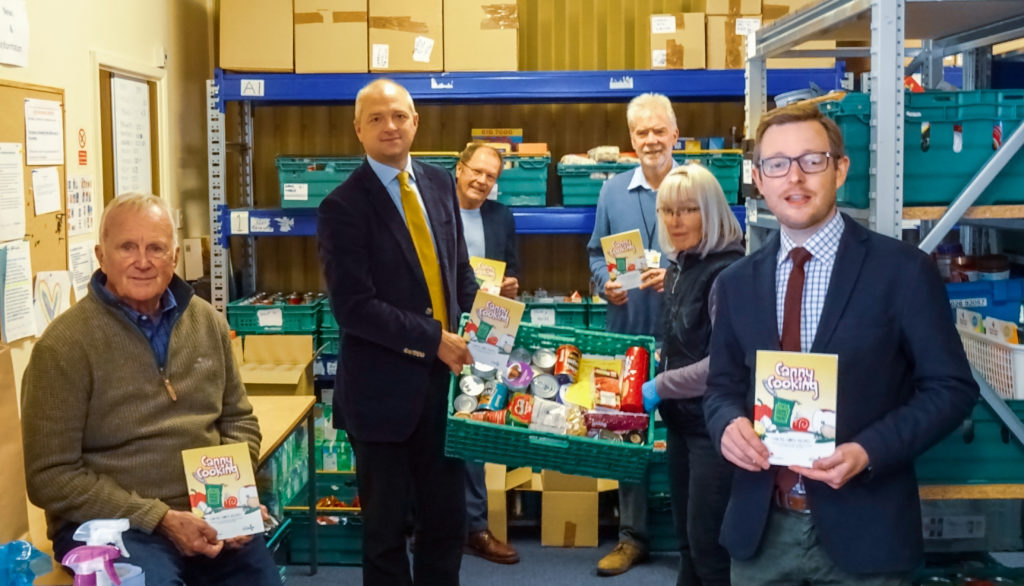 Tim Morton, Project Manager at Cromer and District Foodbank, said: "It's a bright, simple to follow, little book which gives a range of recipes to suit different tastes.
"I love the wipe-clean feel of it, and the practical help and food tips. It certainly won't put off people who are reluctant cooks. For us, we see it as a very useful addition to the services we can offer clients and I am sure it will be highly acclaimed."
Local MPs Jerome Mayhew (Broadland), and Duncan Baker (North Norfolk) attended the launch of the book at the Cromer warehouse.
Mr Mayhew said: "Home cooked food is better in every way: made to your own taste, cheaper, it even sounds better. These recipes use cheap and easy to find ingredients and puts them together in a simple way to make great meals.
"My grandmother wrote a short cookbook during the Second World War to make the best of what was available with rationing. Having read her recipes I think that these are going to taste much nicer!"
And Mr Baker added: "What a fantastic initiative to publish the cookbook. I look forward to sharing these recipes and trying my hand at some too!
"I am hugely supportive of the Cromer Food Bank, it's a brilliant local venture and I know how important it is for people who rely on it due to the hardships they are facing, especially during the pandemic."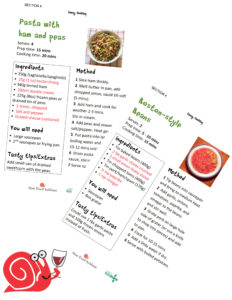 With an initial order of 100 copies, Cromer is now planning to distribute an extra 500 copies across all its centres in north Norfolk.
And it won't stop there, said Peter Wenham, Chair of the Cromer Food Bank Trustees, based at the Cromer Methodist Church Hall. "We are preparing for many more customers once the furlough scheme ends and people lose their jobs," he said.
"We're delighted with this book and intend distributing it far and wide. We have about 400 customers a month, some as far away as Great Yarmouth, and this book will be of great benefit to many of them."
This is the second recipe book by SFA – the first was compiled several years ago but is now out of print. As well as recipes and cooking tips, the colourful new book advises on diet and has a basic measurement guide. It also features a cartoon version of the Slow Food snail logo throughout.
Publication comes as an estimated 846,000 parcels will go to people in crisis during October to December 2020 – a 61 per cent increase on last year, according to the Trussell Trust, which supports a network of over 1,200 food bank centres.
Slow Food Aylsham is celebrating its15th anniversary this year and had planned a series of events including hosting a delegation from UK towns to mark the occasion, but all had to be cancelled due to the pandemic.
The book, printed by Barnwell Print of Aylsham, is also on sale at £5 (inc pp), all profits going to the Cromer Food Bank.

To order, please email Slow Food Aylsham for details.
And there are articles about this on Duncan's and Jerome's websites