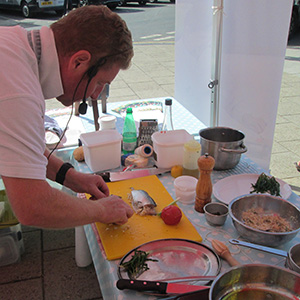 Mark Sayers, head chef at the Saracen's Head, Wolterton, prepared two, quick and easy summer dishes at the Slow Food cookery demonstration in Aylsham (Sat 4 August 2018).
Visitors to the Farmers'Market were treated to mouth-watering mackerel stuffed with crab (left), with samphire, and a tomato and caper sauce, then a fried lamb steak with potato rosti and black pudding and apple sauce (below).
Using fresh, local produce and samphire, Mark demonstrated that what may sound like complicated recipes are actually very straightforward. Each dish takes 20 minutes to prepare and cook.
The recipe
Fresh mackerel with crab and samphire stuffing
1x mackerel filleted
100g crab meat
100g samphire
100g breadcrumbs
lemon zest
1 large tomato
1 spring onion
a few baby capers
splash red wine vinegar
Mix breadcrumbs, crab,samphire lemon zest together. Spread on to one fillet place second fillet on top and tie with string. Seal in a hot pan and cook in the oven for 6 mins.
Deseed and skin tomato. Chop onion and soften in olive oil add vinegar chopped tomatoes and capers.
Wolterton lamb leg steak black pudding and apple
1 lamb leg steak
slice of black pudding
1 eating apple
fresh rosemary
half glass red wine
lamb jus
Seal lamb in hot pan and cook in oven for 8 mins. Meanwhile, slice apple and caramelise in brown sugar.
Reduce red wine and rosemary and add jus strain. Rest lamb for at least 3 mins before carving.