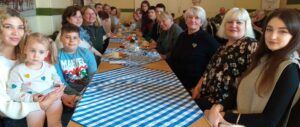 Many Ukrainian guests enjoyed the Full English experience at the Aylsham Food Festival Big Slow Brunch.
Hosted by Slow Food Aylsham, they joined nearly 100 Aylsham guests for the last event of the three-day Festival for the traditional fry-up or Continental buffet in the Town Hall.
Mother-of-two, Viktoria Shkarupa, from Selidovo in the Donetsk region, came to the town in May, and spoke on behalf of the Ukrainian families.
"We would like to thank the people of Aylsham – and in Britain – for the love they have shown us," she said.
"Aylsham is very friendly and lovely place, and the children love the High School.
"And we liked very much the Full English."
Patrick Prekopp, chair of Slow Food Aylsham who organised the festival, said: "This was a unique opportunity to reach out to these displaced families and make them feel welcome in our town.
"We felt that a good fry-up would be a good way of introducing them to a truly English foodie experience."
The Festival Dinner laid on by Aylsham High School students, opened the 16th Festival and was attended by nearly 80 guests who enjoyed a restaurant-style, three-course meal prepared, cooked and served by the students under the guidance of the Food Nutrition teaching staff and Alastair Bradshaw, of Felbrigg Hall.
Guests were privileged to get a brief preview of the school's Christmas musical, Elf – a first public performance for the young cast.
And shoppers in the town square at the Saturday Farmers' Market were also entertained – by the mad-cap antics of comedy chefs Hugh Fearn and Lee Whittingstall who run the Liver Cottage mobile kitchen garden.
Hugh, real name Jem Hulbert is originally from nearby Edgefield and was delighted to be back in north Norfolk with partner Rowan Birkett. "The crowd was lovely and the stallholders were very welcoming. We really enjoyed being part of the Festival and look forward to it next year."
The festival is held to celebrate all that is good about local food and local producers.
Slow Food Aylsham would like to thank the following friends, traders and supporters who helped make the Festival the success it always is. We couldn't do it with them.
Food producers and suppliers
Aylsham High School – ICE Department (for table decorations and fresh school-grown produce)
Fresh Approach, Aylsham
G F Whites Butchers, Aylsham
The Cheese Truckle
Eves Hill Nursery – Fresh salad
Zoe Ward – Home grown apples
Suzie Hebditch – Table linen
Raffle prizes donated by . . .
The Banningham Crown – £40 Meal Voucher
J B Postles – Coffee maker
Bure Valley Railway – Family Ticket
Hodgson & Co – Cheese Hamper
Woodgate Nursery – £25 Garden Gift Voucher
S & M Brett – Fruit Basket