Slow Food Aylsham has its own lottery page – a new and fun way to raise much needed funds for the group, and a chance for supporters to win £25,000.
Patrick Prekopp, chair of Slow Food Aylsham, said: "Over the past year, along with many other community groups, we have been unable to hold our usual events which help raise funds for the group's activities including the ever-popular three-day Food Festival in October.
"To help us bridge that gap, we have teamed up with Broadland District Council's Community at Heart Lottery, a weekly online lottery created to support local good causes across the district."
"We need your help so we can continue to promote all that is good about local food."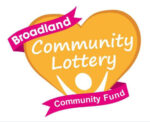 The first draw will be on 27 February with a jackpot of £25,000. Other prizes available are for £2,000, £250, and £25.
Tickets cost just £1 a week and with 50 tickets a week we can raise more £1,300 every year.
When supporters buy a ticket, they will be able to choose where they want their money to go – 50 per cent of ticket sales will go to the person's nominated good cause and 10 per cent will go into a community fund run by Broadland District Council to benefit local good causes. The remaining 40 per cent will go towards the prize money.
Supporters must be 16 or older.