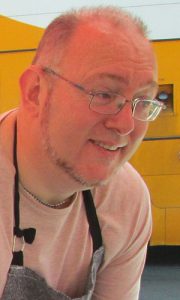 Recipe by Jason Baxter, head of food and nutrition teacher at Aylsham High School
I like to break with tradition surrounding sweet and savoury and Moroccan/ North African food allows the fusion between fruits, herbs and spices.
Perfect for a dinner party, this is something that I will also cook for a BBQ or small dinner party when I want to be the host rather than the slave in the kitchen, allowing me to cook in advance, hot hold, grab a glass of wine and allow my guests to 'dig in' and help themselves. But I also batch-make the dish and use for weekday pack lunches, or portion and freeze as a lazy Sunday night bite.
The chicken dish is my own creation, adapted especially for the Saturday demonstration (very 'cheffy', with a pinch of this and that!) so you can adjust the seasoning to suit your own preferences!
Our students make this as part of their ethnic cuisine studies and many of them have never tried food from North Africa. I tend to work in metric, as this is how I teach the students, but please convert as you see fit. It is not a science and the recipes are very forgiving'.
Coriander and chive flatbreads (makes 20+ small breads or 6-10 naan-bread size flatbreads)
500g strong bread flour (preferably wholemeal)
300ml lukewarm water
7g sachet of quick acting yeast
Small bunch of chives and coriander, finely chopped
Pinch sea salt, 3 cracks of freshly milled black peppercorns or generous pinch of cracked black peppercorns.
Place all the ingredients into a clean bowl and start stirring until wet and dry combined. Turn out onto a lightly floured surface, knead until smooth. Divide the mixture into whatever size flatbreads required (I tend to do mini-breads which start-off life as golf-ball size portions) and roll flat. Place on a lightly greased tray until ready. In a large lightly oiled frying pan, using cold pressed rapeseed oil (Crush Foods is what I use but do not use olive oil as it is no good due to too low a smoking point), fry in batches, turning frequently with a pair of tongs, just as the breads start to brown and puff up. Once the oil is hot enough, you should be flipping them out in less than 60-90 seconds each! Keep warm until required. For a spicy version, fry using a chilli oil instead. Or add chopped chillies to the mixture!
Fruited and spiced couscous (makes sufficient for 6 to share as an accompaniment)
400g dried couscous soaked in 400ml boiling water in a clean bowl (cover and leave for 10 minutes to absorb)
2 tablespoons rapeseed oil
Pinch of saffron threads (for colour and flecks)
120g dried apricots, diced
120g dates, diced
50g dried cranberries
50g sultanas
1 lemon, zested and juiced
40g demerara or brown sugar
100g pistachios (optional)
30g sunflower seeds
30g pumpkins seeds
10g cinnamon
Small handful of fresh mint leaves (pineapple mint from Woodgate Nursery works a treat, or apple mint is also good)
I orange, zested and segmented, leaving all the pith behind.
Sea salt and black pepper for seasoning.
Once you have made up the couscous, stir in the saffron threads. In a saucepan add the oil and all of the other ingredients, and bring to a medium heat until the sugar dissolves and the fruit starts to sweat and releases its aroma and infuses together. Then, stir the fruit and spice mix into the couscous. Season to taste. If a little dry, add a tablespoon of extra oil. Garnish with some freshly ripped coriander leaf and mint leaves.
Moroccan-style chicken in a rich tomato and chickpea sauce (makes enough for 6 portions)
12 chicken thighs (bone in or out), skins on for flavour
20g freshly chopped thyme leaves (works really well with lemon thyme or 50/50 thyme and lemon balm)
10g freshly ripped tarragon leaves (save half for garnish)
1 lemon, zested and juiced
30ml honey
1x400g can chopped tomatoes (or equivalent fresh tomatoes if you have a glut in your garden!)
1x400g (approx.) can chickpeas (not drained) or can of mixed bean salad
40g tomato puree
40g green olives
30ml harissa paste (or tomato pesto with a teaspoon of piri-piri sauce or more, if you like it hot)
Sea salt and black pepper for seasoning
Rapeseed oil for frying
In a dish, rub together the chicken and the honey with a crack or two of sea salt and black pepper. Rub in the harissa paste and allow to stand for 20-30 minutes to marinade. In a large saucepan (with a lid!), add about 45-60ml of oil and brown the skin of the chicken all over. Add all of the other ingredients, place the lid over the pan and bring to boil. Reduce heat and simmer for 30 minutes until the chicken is cooked all the way through. It will cook quicker without the bones!. Take off lid and allow to reduce for last 5 minutes or until the sauce s rich and thick. Season to taste and sprinkle over the last of the tarragon.
Orange and Tomato Salad (makes 6 side portions)
6 large tomatoes or 3 beefsteak tomatoes, de-seeded and cut into thick wedges
2 red onions, halved then wedges again along the grain
2 oranges (you could use a mix of traditional and blood oranges), zested and segmented
30 g green olives, sliced (I use stuffed olives with jalapenos as I like the heat)
1 small bunch of flat leaf parsley, finely chopped
1 small bunch of mint leaves, finely ripped (saves the flavour and is less brutal than chopping)
Sea salt and black pepper for seasoning
30ml of rapeseed oil
Prepare as above, place in a large bowl and poor over the oil and stir well together. I use my hands rather than a spoon, as you get to feel the wedges of onion break up and you can ensure the salad is moist all over. If you prefer, you could add a few capers or I use cornichons (chopped). Keep cold until serving as its incredibly refreshing and fragrant.