Aylsham Show, 27 August 2018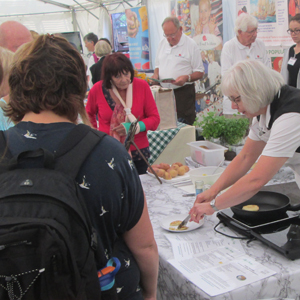 Jill Willis demonstrated four simple recipes involving potatoes at her famous cooking workshops at the Slow Food Aylsham stall.
---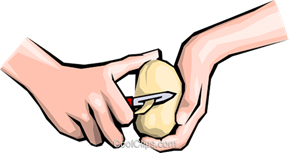 Potato peel soup
Ingredients
15g butter
15ml vegetable oil
1 large onion, peeled and diced
1 bay leaf
Approx 200g potato peelings, clean
500ml whole milk
500ml vegetable or chicken stock
Freshly grated nutmeg
Salt and black pepper
To serve:
Chopped fresh parsley
Fresh sage leaves, fried
Chopped bacon pieces, fried until crisp
  Method
Gently cook the chopped onion in the oil and butter with the bay leaf, until softened but not coloured.
Add the potato peelings and continue to cook gently until everything is coated in the oil and butter mix.
Add milk and chosen stock with nutmeg, salt and a good pinch of black pepper. Continue to cook gently until potato peelings are tender.
Allow to cool slightly before blending until very smooth.
Return to pan. Check seasoning and add parsley. Reheat gently.
Serve with fried sage leaves and bacon pieces.
---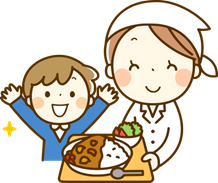 Potato coconut curry
Ingredients
4 smooth potatoes, peeled and cubed
2 tbsp oil
1 onion, peeled and diced
3 garlic cloved, finely chopped
2 tsp ground cumin
1½ tsp cayenne pepper
4 tsp curry powder
4 tsp garam masala
2.5 cm piece fresh ginger, peeled and grated
1 x 400g tin chopped tomatoes
1 x 400g tin chickpeas, drained
1 x 400g tin peas,   drained
1 x 400g tin coconut    milk
To serve:
Fluffy Basmati rice
Chapattis
Mango chutney
 Method
Boil potatoes until just tender. Drain thoroughly.
In a large frying pan, cook onion until just softened.
Add garlic, cumin, cayenne pepper, curry powder, garam masala, ginger and salt and cook for 2 minutes.
Add remaining ingredients and simmer for about 10 minutes.
Sprinkle with fresh chopped coriander and serve with cooked fluffy rice, chapattis and mango chutney.
---

Patatas bravas
Recipe taken from River cottage
This is a classic Spanish tapa that works beautifully with a selection of other little dishes – chunks of frittata, simple salads, olives, dips etc – but it also makes a great starter.
Ingredients
1kg waxy or new potatoes, cut into 3cm cubes
5 tablespoons olive or rapeseed oil
Flaky sea salt
2 tablespoons olive or rapeseed oil
For the tomato sauce:
1 onion, finely chopped
A handful of thyme sprigs, leaves only, chopped
3 garlic cloves, finely chopped
1 small, fairly hot red chilli, deseeded and finely chopped
400g tin plum tomatoes, chopped, any stalky ends and skin removed
2 teaspoons sweet paprika
A pinch of sugar
Sea salt and freshly ground black pepper
Method
Make the sauce. Sweat the onion and thyme in the oil until softened but not coloured. Add the garlic and chilli and cook, stirring, for a minute.
Add tomatoes with their juice, paprika, sugar and some salt and pepper. Simmer for about 10 minutes, until you have a nice, rich, piquant tomato sauce. Taste and adjust the seasoning and keep the sauce warm.
Boil potatoes until tender but still firm. Drain and pat dry.
Warm 5 tablespoons oil in a large frying pan over a medium-high heat and sauté the potatoes for 10–15 minutes, until crisp and golden. Drain on kitchen paper, tip into a warmed dish and season with a scattering of sea salt.
Check the consistency of the tomato sauce and thin it with a splash of hot water if necessary, then pour over the potatoes. Scatter with chopped parsley and serve warm.
---
Potato pancakes
with watercress, avocado and smoked salmon
Ingredients
200g fluffy potatoes eg Desiree, boiled or steamed, and mashed
2 spring onions, washed and finely chopped
1 tsp baking powder
75g plain flour
100-150ml whole milk
1 lemon, zest only
Salt and freshly ground black pepper
Little oil to cook the pancakes
To serve:
1 avocado, slightly mashed
150g smoked salmon
Watercress or rocket
Sour cream, optional
Method
Mash potatoes while still hot. Add chopped spring onion and seasoning.
Whisk the flour and baking powder with the milk and then mix into the mashed potato with the lemon zest. Check seasoning and add enough milk to make a thick consistency.
Cook the pancakes in frying pan with a little oil. Turning after one side is puffed and brown.
To serve: place a pancake on a plate with mashed avocado on top (season with salt, pepper and lemon juice), a handful of watercress or rocket and the smoked salmon on top. Top with sour cream, if desired.