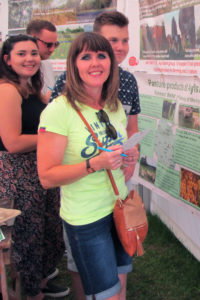 What is your favourite British food? Fish and chips, of course, perhaps the Sunday roast and the mighty full English breakfast.
Here in Norfolk, we can provide all the ingredients for the top 10 most popular dishes including bangers and mash, cockles, a simple salad or a platter of local cheeses.
And in Aylsham in particular, we are very lucky to still have pastures that give us meat, milk and cheeses of magnificent taste and quality.
We all know that cows eat grass, but did you know that nearly 97 per cent of all natural British pastures have been destroyed?
Sadly, it seems not, as our stand at the Aylsham Show this year discovered.
The theme for the stand was 'pasture is life' – an exploration of how our oldest crop, pasture, once provided nearly all of our dietary needs.
As new production techniques are introduced and intensified, the variety of rare breeds of livestock which gave us a range of unique flavours, has been lost and our wildlife, especially flowers and insects, has declined.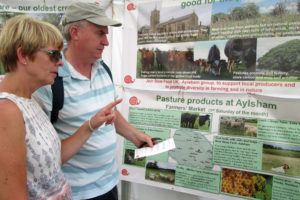 In an attempt to show how local producers are trying to correct the balance, we devised a simple quiz.
More than 100 people took part in our Norfolk Pastures Family Game which tested people's knowledge of how much they think they know about local food providers.
The quiz was run from tables in front of three banners outlining the benefits of pasture, and included tests on four of our five senses – sight, taste, smell and touch – and on information banners.
Sindy Littleproud, a retail manager from Dereham, said: "The quiz is very good, especially for children, who all think their food comes from supermarkets. And it was just hard enough to make you think."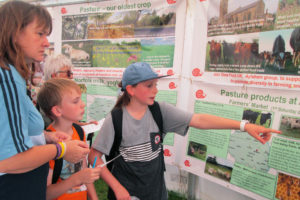 Peter Garrod and Yasmin Burgess, from Ashmanhaugh, said: "It's a brilliant idea and a lot harder than you think and reminds you just how much you don't know about food. We're certainly buying more local now."
And Carol McKean, a social worker from Sheringham and children Taylor, aged nine and Zoe, 12, said: "It gets people thinking about alternatives. For instance, I didn't know how many pasture products or cheeses came from Norfolk," said Carol.
The winner wins a family ticket for the Aylsham Food Festival Big Slow Brunch on Sunday 8 October.