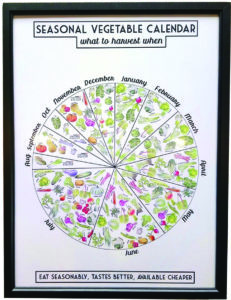 Top of the top 10 New Year resolutions are to lose weight and get fit, eat healthier, diet and save money. So no surprise that new celebrity diet plans are promoted at this time of year.
However, among the celebrities to get in on the act – but in a non-profiteering way – is gardening broadcaster Alan Titchmarsh, who "yearns for a return to seasonality of diet: English apples and pears in autumn and winter, strawberries and raspberries in summer, asparagus from April to June."
Writing in the BBC magazine, Gardeners' World, he reminds us that buying strawberries in January involves the burning of fossil fuel to reach our table. Now, our estimable local greengrocer S & M Brett has been known to sell strawberries in January – but look at the rest of the shelves (main picture). Mostly local products including their own-grown produce – and not wrapped in plastic.
Alternatively, grow your own. And to help, artist and environmental advisor Rebecca Rolf and her graphic designer sister Hayley, have designed and made handy A3 seasonal veg calendars. Printed in Aylsham by Barnwell's on high quality carbon balanced, recycled paper, certified by the World Land Trust, they sell for £7 each or £12 framed. All profits go towards starting a shared allotment for young families in Hevingham.
So, resolve to eat locally-produced food for your health – and help save the planet at the same time.
Invitation to join the party
Celebrations to mark this year's 15th anniversary of Slow Food Aylsham and Cittaslow Aylsham, which is expected to attract international attention and bring in hundreds of visitors, will be supported by Aylsham Town Council who have agreed to host the event.
Slow Food UK has agreed to hold its annual general meeting in Aylsham over the weekend of the Food Festival (2,3,4 October) when about 40-50 delegates and attendees from across the UK will descend on the town.
And the autumn Cittaslow International Co-ordinating Committee, based in Orvieto, Italy – again with about 40-50 delegates and attendees from around the world – will come to Aylsham on the weekend of 7, 8 November. A five-strong committee will plan and co-ordinate a programme of Cittaslow events.
As the UK's second town to achieve Cittaslow status, Aylsham has led the way over the years in environmental initiatives like plastic bag free shopping and supports local, traditional markets and artisans.
Individuals, community groups and traders interested in being part of the celebrations should email Slow Food Aylsham or Aylsham Town Hall.