Perfect for a light lunch, this salad is easy to prepare and can be adapted easily by using your favourite fish (prawns or mackerel, etc) and whatever leaves and vegetables are available. Serves 2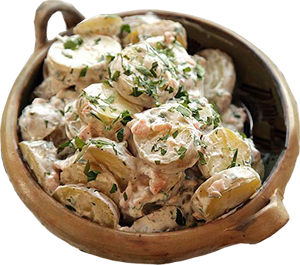 Ingredients
150g new potatoes, washed
100g green beans (or fresh veg of your choice)
2 tbsp olive oil
Knob of butter
1 fillet salmon
½ lemon
100g baby spinach leaves, picked through and washed
Bunch of flat leaf parsley, chopped
100g cherry tomatoes, halved
For the dressing
100ml crème fraiche
1 tsp Dijon mustard
1 tbsp white wine vinegar
2tbsp olive oil
Handful flat leaf parsley (or your choice of herb) chopped
Salt and freshly ground black pepper
Method
Boil the potatoes until just tender. Drain and set aside.
Steam green beans over potatoes until just beginning to soften.
Meanwhile, fry the salmon portion in the oil and butter until just cooked through.
Put spinach and halved tomatoes into a large bowl.
Make the dressing: whisk together crème fraiche, mustard, wine vinegar and oil. If it seems too thick add a drop of cold water. Stir in chopped parsley and, salt and pepper to taste.
Mix together the warm cooked vegetables with the spinach and tomatoes. The heat from the warm vegetables should just wilt the spinach leaves.
Flake salmon and add to other ingredients
Arrange the salad on serving plates and spoon over the dressing.
If you wish, grind a little more black pepper and add a few sprigs of parsley.
Jilly's Tips

Try not to overcook the potatoes and vegetables to preserve the fresh taste
Vary by use different vegetables and herbs.
Instead of salmon, try this salad with hot, chopped pieces of gammon or smokey bacon pieces.
© Jill Willis