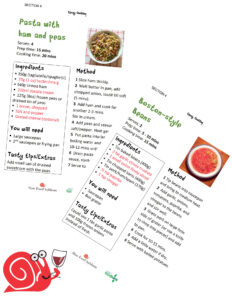 The newly-opened Aylsham Garden Centre have kindly offered to sell our Canny Cooking recipe book aimed at helping feed vulnerable families, jobless, those on a tight budget or just reluctant cooks.
But you can also buy a copy from us by email . It costs just £5 –  and all profits go to Aylsham and Cromer Food Bank.
The simple, easy to follow recipes are based on the ingredients in the average Food Bank basket – non-perishable canned and dried foods – and are aimed at encouraging those who receive food parcels to get the best out of their rations.