Come and join us . . .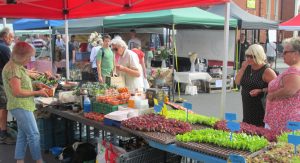 This year's Aylsham Food Festival is planned, as ever, for the first weekend in October.
The festival always coincides with the monthly Farmers' Market and stallholders are invited to join us in the Market Place or Town Hall on Saturday 5 October.
The event opens at 8am and closes at 1pm. Vehicles are allowed in the Market Place until 8am but must be cleared by then. There is ample free parking in the Buttsland car park in Mill Road.
The cost of a 3m x 3m stall is £20, payable in advance, and includes contribution towards mention of attendance in any publicity.
We will also need to have sight of your public and product liability insurance before the event.
If your stall is outside, you are advised to bring your own weather protection, chairs and tables.
Please contact us if you are interested and we will reserve a place for you.