Kitchen-friendly recipe booklets produced by Slow Food Aylsham to help people using food banks attracted national interest in 2016 and were among the highlights of the group's activities over the year.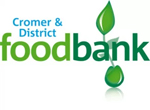 Produced and tested by members together with local chef Derrol Waller, the wipe-clean, 'open-flat' books were donated to Cromer and District food bank.
Among other activities, the group was also involved with speaking engagements at the Women's Institute, International Women's Day, Family Learning Day at Aylsham High School, the Aylsham Show and, of course, the Food Festival.
ABOVE: Cromer and District foodbank Project Manager Ella King (right), received the recipe booklets from then Slow Food Aylsham chairman Mo Anderson-Dungar.
Notes of annual general meeting held on 9 January 2017
Present: Mo Anderson-Dungar (Chair), Richard Anderson-Dungar, David Harper, Maureen Harper, Shelly Hudson, Giles Margarson, Sue Margarson, Richard Preston, Geoff Sadler, Wendy Sadler, Jill Willis, Roger Willis.
Apologies: David Brooker, Margaret Brooker, Maureen Burr, Chris Groombridge
1. Notes of 2015 annual general meeting
1.1 Notes of the 2015 AGM held on 20 January 2016 were approved. There were no matters arising from the notes of the 2015 AGM.
2. Annual report
2.1 Mo Anderson-Dungar outlined the SFA's activities during the year making specific reference to:
 

the food bank recipe book which had attracted national interest

 

speaking engagements with the Women's Institute

 

involvement with International Women's Day

 

input to the AHS Family Learning Day

the group's participation in the Aylsham Show

the 2016 Food Festival

the group's participation in the Broadland Community Fair

an event at the Church where young people were able to make muesli
2.2 Mo extended her thanks to the group's membership for their continuing support and, specifically, to Shelley for her input to the WI and IWD events, to Jill for her leadership on catering events , to Giles for his tireless assistance with the staging of events and to Maureen, Roger and Richard for their support with the management of the group.
3. Financial report
3.1 In Maureen Burr's absence Mo presented the financial report which showed that overall expenditure in 2016 at £4,719 had exceeded income by £107 and that the balance at the year's end stood at £4,985.
3.2 The report noted that the income had included a grant of £1,000 from Broadland District Council and a donation of £300 from Woodfordes.
4. Election of officers
4.1 In the absence of a nomination for Chair and Vice-Chair it was proposed by Roger and seconded by Mo and agreed that these positions be filled on a meeting-by-meeting basis.
4.2 David Harper was appointed secretary having been nominated by Roger and seconded by Geoff.
4.3 It was confirmed that Maureen Burr would continue as treasurer.
4.4 Outgoing Chair and Vice-Chair, Mo and Richard, were thanked for their sustained input during what had been a challenging year for them personally.
5. Any other business
5.1 Roger reported that changes to the AHS curriculum may make it impractical for the school to host the Food Festival Gala Dinner in 2017. In previous year's this has been a key feature of SFA's activity. In the circumstances he proposed, and it was agreed, that when the group next meets it should give consideration to SFA's future activities.
5.2 It was agreed that the group next meets on 27th February 2017 at 7.30p.m. Roger offered to host the meeting.
The meeting closed at 7.35 p.m.