It's a must on any dedicated foodie's calendar, the three-day Aylsham Food Festival will be held in its traditional slot on the first weekend of October, starting Friday 30 September to 2 October.
Organised by Slow Food Aylsham and Cittaslow, the festival is a popular event for families and a showcase for local producers, artisans, and traders to promote all that is good about local produce.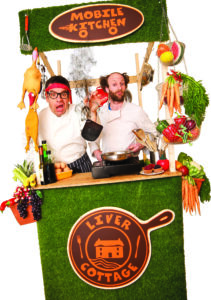 Set in Aylsham's historic and picturesque Market Place, it is a celebration of Norfolk's food and drink, and features a Farmers' Market, Country Market, wine tasting and the showpiece Festival Dinner and famous Big Slow Brunch.
For entertainment, visitors to the Farmers' Market will be treated to a cookery demonstration like no other by comedy chefs Hugh Fearn and Lee Whittingstall (pictured right) who run the Liver Cottage Mobile. Their mad-cap antics create "fusion food on the move" and promise to delight younger visitors.
And for only the second time, students from Aylsham High School will give a hi-tech flavour of their annual stage show with songs from the hit musical, Elf at the Festival Dinner.
High school teacher, Tanya Wiseman, who produces the show, said: "Another fabulous opportunity for the cast of Elf. The last Slow Food event was a truly wonderful evening for us to show case parts of the musical, and to work with our colleagues from the Food and Nutrition dept.
"We would like to thank Slow Food for allowing us this fantastic opportunity. The costumes are all handmade, and we are excited to be able to show these off. And for the first time at Aylsham High School, we are using a video wall as part of the set."
The festival is organised by Slow Food Aylsham, a not-for-profit group who campaign for fresh, healthy and affordable food, and, together with its sister organisation Cittaslow Aylsham, works with local producers, chefs and businesses to promote the region's flourishing food and drink scene.
Patrick Prekopp, chair of SFA, said: "Despite the continuing challenging times – the festival was cancelled in 2020 because of Covid – this will be the 16th festival and, although many of the usual participants have suffered along the way, it promises to be a great weekend.
"The focus, as ever, is hyper-local, so don't miss this great opportunity – as Buddy from Elf would say: 'Don't be a cotton-headed ninny muggins' be the first to get your tickets."
Diary of Events
Friday 30 September
Country Market

, Town Hall,
8.30 – Midday. Free entry.

Festival Dinner

at Aylsham High School,
6 – 10pm. Tickets £18pp*
Tables are for 10. If your party is less than 10, please expect to be seated with others.
Saturday 1 October
Farmers' Market

,
8.30 – 1pm. More stalls in the Town Hall and entertainment by comedy chefs and their Liver Cottage Mobile Kitchen.

Wine tasting

7pm – with choice cheeses. Tickets £17pp from the Heritage Centre.
Sunday 2 October
The Big Slow Brunch
10.30 to 1pm in the Town Hall. Freshly cooked traditional Full English and/or Continental buffet and served by members of Slow Food and friends. Tickets £9pp – Children under 12, £4.50*
* For tickets, please email: slowfoodaylsham@gmail.com
or call

0750 074 6721



Tickets are non-refundable, and any reservations not paid by 23 September will be automatically cancelled.


Tickets for Elf will be on sale at Aylsham High School from Wednesday 12 October from AHS lunchtimes 12.30pm to 1.15pm or via Ticketsource on line. Opening night is Monday 19 December.