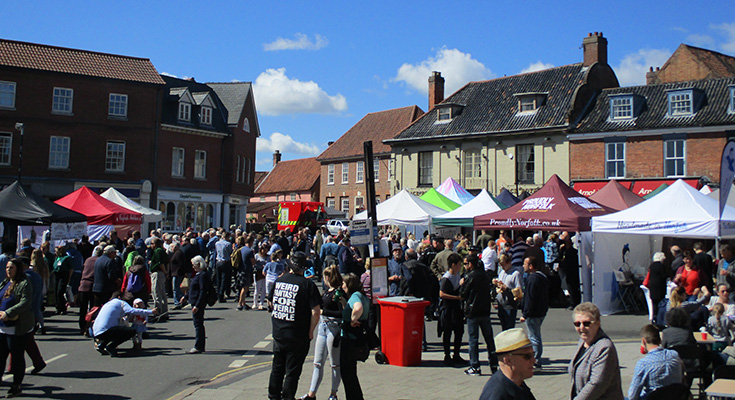 Aylsham entertained more than 3,000 visitors at its first "sausage festival" as butchers, breeders and producers from as far as Cornwall and Lincoln came to celebrate the humble banger.
The Big Norfolk Sausage Bash took over the Market Place and Town Hall on Sunday (12 May) with food stalls, local breweries, live music and children's entertainment joining the butchers outside as they grilled their specialities and inside to watch a rolling series of cookery demonstrations from local chefs.

Slow Food Aylsham was invited to join the organisers of the event – Aylsham's own Coxford's Butchers, Walsingham Farm Shop and celebrity chef and charity fundraiser, Charlie Hodson.
As well as donating all proceeds to various charities, the event aimed at highlighting the dwindling numbers of High Street butchers.
"The butcher is at the heart of the community sourcing his meat from local breeders," said Charlie. "We must support our local butcher if we want quality meat and save our traditional Norfolk products."
After a cold and slow start, the day quickly warmed up – not just because the sun came out but as the barbecues were fired up to meet the demands of hundreds of visitors.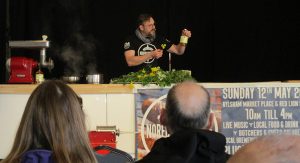 And alongside the grilling bangers, a small but enthusiastic band of Slow Food members set out their stall offering a side dish combination of home-made potato salad, coleslaw and gherkins served by Lesley Prekopp, Mo Anderson-Dungar and Jill Willis (pictured).
"We estimated catering for about 100 visitors but it soon became clear that we had got it wrong," said Patrick Prekopp, SFA chairman. "We sold out half-way through lunch, such was the demand. It was a great day for all and a great way to put across the message about supporting your local butcher."
And the same was happening around the square – food stalls and even the sausage sizzlers were selling out faster than expected. But still they queued.
Each butcher grilled an average of 1,000 sausages on the day and all ran out by mid afternoon. But the bars were doing well and live music at The Unicorn attracted a large audience in the forecourt, while in the church grounds, play facilities were provided for children.
Thanks to all the organisers for reminding us all to value our local producers and traders.