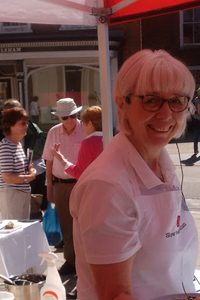 There's been a big demand for the recipes our guest chef, Jill Willis, used at the cookery demonstration in Aylsham on Saturday (5 May).
Jill, former head of the Hospitality and Catering at Aylsham High School, prepared a three-course 'Family Menu' – the recipes are below.
This was the first demo Cittaslow Aylsham and Slow Food Aylsham presented as part of the free monthly cookery demonstrations in the Market Place, which coincides with the town's Farmers Market.
Watch out for local chefs Mark Sayers (Saracen's Head, Wolterton), Steve Norgate (The Beechwood, North Walsham) and students from Aylsham High School who will appear at future demonstrations.
---
Warm Salmon and Potato Salad
Perfect for a lunch in the spring sunshine, this salad is easy to prepare and can be adapted easily by using your favourite fish (prawns or mackerel etc) and whatever leaves and vegetables are available.
INGREDIENTS (serves 2)
150g new potatoes, washed
100g green beans (or fresh veg of your choice)
2 tbsp olive oil
Knob of butter
1 fillet salmon
½ lemon
100g baby spinach leaves, picked through and washed
Bunch of flat leaf parsley, chopped
100g cherry tomatoes, halved
For the dressing:
100ml crème fraiche
1 tsp Dijon mustard
1 tbsp white wine vinegar
2tbsp olive oil
Handful flat leaf parsley (or your choice of herb) chopped
Salt and freshly ground black pepper
METHOD
Boil the potatoes until just tender. Drain and set aside.
Steam green beans over potatoes until just beginning to soften.
Meanwhile, fry the salmon portion in the oil and butter until just cooked through.
Put spinach and halved tomatoes into a large bowl.
Make the dressing: whisk together crème fraiche, mustard, wine vinegar and oil. If it seems too thick add a drop of cold water. Stir in chopped parsley and, salt and pepper to taste.
Mix together the warm cooked vegetables with the spinach and tomatoes. The heat from the warm vegetables should just wilt the spinach leaves.
Flake salmon and add to other ingredients
Arrange the salad on serving plates and spoon over the dressing.
If you wish, grind a little more black pepper and add a few sprigs of parsley.
JILLY'S TIPS
Try not to overcook the potatoes and vegetables to preserve the fresh taste
Vary by use different vegetables and herbs.
Instead of salmon, try this salad with hot, chopped pieces of gammon or smokey bacon pieces.
---
Asparagus and Lemon Risotto
A lovely, fresh tasting recipe for early spring using new season, local asparagus.
INGREDIENTS (serves 2)
2 tbsp olive oil
Knob of butter
½ medium sized onion (chopped)
150g risotto rice (Arborio works well)
½ glass white wine (about 125-150ml)
Approx 750ml vegetable stock (I use Knorr for the flavour)
1 bunch asparagus (chop the stems and retain the tips for later)
Handful fresh or frozen garden peas
Bunch of flat leaf parsley
1 lemon
50-75g Parmesan
Pea shoots to garnish
METHOD
Heat the oil and butter in a deep frying pan. Fry the onion gently until it is just beginning to soften.
Add the rice and cook for a few minutes.
Pour in the wine and allow this to cook until almost absorbed.
Add about 1/3 of the stock and the asparagus stems. Cook on a simmer until the rice has absorbed the stock, then add a little at a time.
Now just stir occasionally adding stock as it is absorbed. Look for the rice to become slightly transluscent and soft but retaining a slight bite.
About 5 minutes before the rice is cooked add the peas, asparagus and remaining stock.
Once the rice is cooked add the lemon zest and juice with the chopped parsley.
Serve garnished with the pea shoots and a grating of Parmesan.
JILLY'S TIPS
Try not to overcook the rice or it will become "spongey" and soggy.
You may not need all the stock – every rice is different and how you cook it can affect the quantities needed. Judge it by testing the texture of the rice as you go.
For a richer flavour stir through another knob of butter at the end of cooking.
You can adapt this recipe easily for other vegetables, fish or chicken. Try it with just onion and herbs as an accompaniment to grilled fish or chicken.
---
Warm Strawberries on Sugared Dropped Scones
Not a fan of the favoured afternoon tea? This might convince you! Warm dropped scones, a sprinkling of sugar, warm juicy strawberries served with clotted cream.  What's not to like?
INGREDIENTS (serves 2)
For the dropped scones
150g self-raising flour
Pinch of salt
1 tbsp caster sugar
½ tsp vanilla extract
150ml semi-skimmed milk
2tbsp oil
Knob of butter
For the strawberries
250g fresh, ripe strawberries
½ lemon
2 tbsp caster sugar
To serve
Clotted cream
A little extra caster sugar
METHOD
 Prepare the strawberries: wash, remove stalks, cut large strawberries in half. Place strawberries, lemon juice and sugar into a saucepan and cook gently until the juice runs and the strawberries are just beginning to soften. Set aside.
Meanwhile prepare the scone batter: place flour, salt, sugar, and vanilla in a bowl. Add half the milk and whisk until smooth. Add enough remaining milk to make a thick batter. It should be the consistency of thick cream.
Heat the oil and butter in a flat pan. Spoon in 1 tablespoon of batter at a time.  The batter should sizzle slightly.  When you see bubbles of the surface, turn the scone over and cook the other side. You will see the scones puff up in the middle.  Toss the scones in caster sugar.
Serve the scones with the clotted cream and the warm strawberries drizzled over.
JILLY'S TIPS
 Don't overcook the strawberries or the fresh flavour will be lost.
You could use a mixture of fresh summer berries
Try crème fraiche (half-fat) for a healthier alternative.