Not a fan of the favoured afternoon tea? This might convince you. Warm dropped scones, a sprinkling of sugar, warm juicy strawberries served with clotted cream.  What's not to like?
Ingredients (serves 2)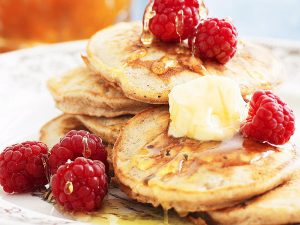 For the dropped scones
150g self-raising flour
Pinch of salt
1 tbsp caster sugar
½ tsp vanilla extract
150ml semi-skimmed milk
2tbsp oil
Knob of butter
For the strawberries
250g fresh, ripe strawberries
½ lemon
2 tbsp caster sugar
To serve
Clotted cream
A little extra caster sugar
Method
Prepare the strawberries: wash, remove stalks, cut large strawberries in half. Place strawberries, lemon juice and sugar into a saucepan and cook gently until the juice runs and the strawberries are just beginning to soften. Set aside.
Meanwhile prepare the scone batter: place flour, salt, sugar, and vanilla in a bowl. Add half the milk and whisk until smooth. Add enough remaining milk to make a thick batter. It should be the consistency of thick cream.
Heat the oil and butter in a flat pan. Spoon in 1 tablespoon of batter at a time.  The batter should sizzle slightly.  When you see bubbles of the surface, turn the scone over and cook the other side. You will see the scones puff up in the middle.  Toss the scones in caster sugar.
Serve the scones with the clotted cream and the warm strawberries drizzled over.
Jilly's Tips
Don't overcook the strawberries or the fresh flavour will be lost.
You could use a mixture of fresh summer berries.
Try crème fraiche (half-fat) for a healthier alternative.
© Jill Willis